Mobilising the Net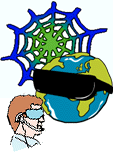 What happens when the Internet meets the mobile phone? Mobilising the Net, published in the IEE Review, gives a glimpse into a future of anytime, anywhere connection through a new range of devices, offering everything from entertainment, group communication and online shopping to learning on tap.
The article describes and illustrates three device concepts - mediaPad, SoundSurfer and ViewMan - which show different ways of accessing the mobile Net.
These devices are neither computer nor phone, but draw on elements of each to create a new class of device we call the media processor. The media processor provides the intelligent interface between individuals and the increasingly complex online and digital world. Like today's phones, it will come in many different shapes and sizes, some of them 'hands free'.
It will combine uses which today we think of as distinct and separate - including information, entertainment, communication, learning and the buying of goods and services. It will provide a personal, always available, on demand link to the global resources of the mobile Net.
To download a copy of the article, click here for a copy of the pdf file which you can print from your PC. We welcome comments, or enquiries about the technology, concepts and applications involved.
Device names and concepts © Mediation Technology 1999.