Text: the natural medium for interaction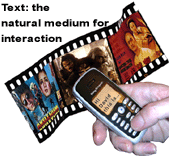 abstract from conference paper for Mediatech 2003
Text messaging is the fastest growing communication medium in the world, expanding 50% year on year, and used by more people in Europe than email. In an astonishingly short time, text has become a natural part of life for millions of people, who use it every day to communicate with friends, family and work colleagues. But it can do much more.
Text can also be processed, recognised, interpreted and logged, so it is an ideal medium for interactive response, either alone, or alongside any broadcast or mass medium. Text can add 'instant' interaction, simply and quickly, to any medium – television, radio, print media, advertising, the Web – or any combination of these: and millions will respond. Text operates 24/7, and is fully personalised. Users do not need special equipment, or even a PC: just the mobile phone they already carry.
Our experience of creating intelligent dialogue shows that fully personalised interaction is possible with thousands or millions of people, anytime and anywhere. Applications include voting, comments, reminders, requests, competitions, offers – even orders and bookings. Text can be used for transactions and payment. Users take to it naturally: after all text is simply stylised speech, and the most natural form of interaction yet devised.
Download full paper here (pdf 740k)