Papers, publications and presentations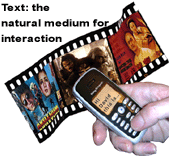 A selection from our archives:
Text: the natural medium for interaction. Conference paper by Geoff Vincent, Mediation Technology's senior partner & CEO of mTank Ltd , for Mediatech 2003. Read abstract of paper or download complete paper HERE
Getting the Message (2003) Article by Geoff Vincent (abridged version published in IEE Review March 2003) on the explosive growth of text messaging and how it has taken telecommunications operators by surprise."Click HERE to download complete article in .pdf format
Learning from iMode(2001)
Mobilising the Net (1999)
Casting the Net (pdf format) (1998)
Technology, Networks and Community A workshop given by Mediation Technology for Cambridge City councillors.
Constructing Caring e-Communities. Conference presentation at Women at the Web conference.